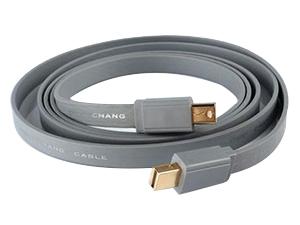 Application
Interface: Mini DP 1.2 is used in both sides
Support: 4K 60HZ,2K 144HZ,2K 165HZ,G-SYNC,freesync
Application port

Parameters:
Cable length: 1m-3m
Connector: copper shell plated 24K gold
Conductor: oxygen-free copper, 32AWG
Cable diameter: 2.0*9.0mm
Cable material: PVC
Characteristics
The cable is designed to be flat for easy wiring and less space inhabitance. The outer weave is soft, durable, and bend resistant.
The cable material is environmentally friendly and non-toxic;
Data rate of each signal channel of the connecting cable is 5.4 Gbase-t. And the total bandwidth of the signal channel is as high as 21.6GBPS;
Gold-plated material can protect the plug of cable from oxidation and improve its transmissibility;
The core of the cable is made from tinned copper. It is anticorrosive and antioxidative, so that it can protect the signal from oxide layer interference;
The core of cable is shielded with aluminum foil, so it can protect the signal from outside interference;
Signals are separated before transmission. In this way, information can be transmitted with less interference, less EMI and higher speed.
Connector details
Index
HDMI cable, display cable, display extension cable, connection cable